Many clients of the-freelance-editor, those with ongoing projects as well as those with prospective jobs, have noticed a slowdown in our production during 2022. Part of the reason for this slowdown has been a physical move of our home and office from Raleigh to Rocky Mount about 50 miles northeast. Reasons for the move were numerous (and some of you know most of them), but we're finally (after six months of relatively continuous and occasionally painful work) getting settled in and back into business.
Six months? Yes, we were quite surprised at the effort involved to make an existing and already livable house our own! After all, much of the home "only" needed paint and electrical upgrades. But even applying almost 20 gallons of paint and running nearly 750 feet of new wiring (with outlets) while replacing a variety of receptacles, switches, and fixtures added (most of them improperly) over the home's first century takes time!
A look around

With this final (fingers crossed) physical move, the-freelance-editor will have an official office for continuing our work with individuals, businesses, and other entities—and we are excited to have a space that can be dedicated to providing editorial services in the years ahead. In addition to floor space and a sweet view outside a magnificent bank of windows, our new office consists of
a desk that is only one layer deep (for business, not for bills, notes, and personal use);
a full array of bookshelves and file cabinets for writing, reading, and editing resources;
comfortable seating and lighting for those needed moments of contemplation and professional reading;
room to stand and stretch; and, last but not least,
walls to display a few accomplishments and projects for which we have a little extra pride.

As if you didn't know already, we've been anxiously waiting to use these new amenities and get back to work; after all, our office area was, for longer than the past decade, in two different locations, a third of our total apartment footage and assigned to more than a few purposes! It will be nice to have an official office for the first time since Orlando.
Interested in seeing more?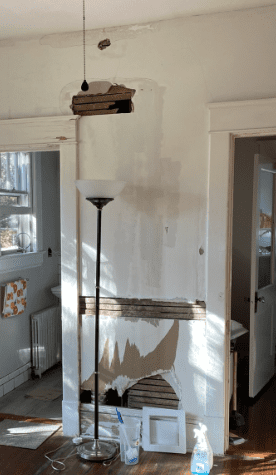 Due to water damage from improperly installed plumbing (a previous owner's not-to-code second-floor hot tub), the space that would become an office for the-freelance-editor was relegated to serving as a storage area and working space while other rooms in the house were updated.
In addition to the office, we've spent the last several months updating and renovating the rest of our new home, trying to keep most of its historical 1922 charm while making the space ours. Fortunately, the structure was in excellent condition so we had to pay little attention to original hardwood flooring, doors, and windows or to plaster work, a spacious walkaround porch, or a neglected period garage.
What you'll see in the photos of our private living space (if you have the password for viewing) are additional touches and renovations we were able to complete ourselves—or with an extremely "handy" friend who knows who he is but probably not how much he was appreciated.
We've been told that finishing the interior is the most difficult piece of moving into an older home, and with several sighs (and a winter to recover) we cringe at acknowledging exterior work and planting several gardens are in plans for the new year; but, then again, those projects will arise following several sighs (and a winter) . . .
Now that we're back . . .
the-freelance-editor is ready for your project. So, let's get together and discuss what editorial services you might need.
Stephen, the-freelance-editor,
where we work with our clients to help them say
what they want to say to the audience they want to reach.
Contact us, even when you just think you might be needing us!
And, please like or share this post or leave a comment—
on any of our growing social media outlets.
the-freelance-editor.com has many specialty divisions—including the-history-editor, the-blog-editor, and
the-freelance-ghostwriter—whatever it takes to help you do your job or get your needs online.
originally posted November 12, 2022;
no text revisions to date
image information: All images courtesy personal files of the-freelance-editor!